Object: Exterior mural / Location: Lycée Edward Steichen Clervaux / Size: 135 m2
With its rustic charm, natural richness, and historical intricacy, the picturesque town Clervaux exudes a distinctive atmosphere. Nestled amid green valleys, meandering rivers, and dense forests in the north of Luxembourg, it is a favoured tourist destination and a flourishing cultural centre. Clervaux is home not only to a medieval castle and fortress dating back to the 12th century but also to Edward Steichen's internationally acclaimed documentary photo exhibition Family of Man. An astonishing blend of enchanting sceneries, renowned cultural and historic heritage, legends, religious traditions, but also modern infrastructures and contemporary developments merge here to create a unique setting. The Edward Steichen lycée is one of the singular, new buildings established here. A new generation secondary school, where a European, innovative, multicultural, and multilingual teaching model prevails. In 2023, Atelier Paul Kirps was tasked with creating an artwork on the large wall of the school's inner courtyard.
The technique employed is complex and therefore unique. The outcome falls somewhere between graffiti and a theatrical set painting. The entire design was created using stencils, applied successively at different levels, and then filled with pigmented spray paint. The result shows precise shape contours, counterbalanced by delicate hairlines that – unlike traditional graffiti – appear extremely sharp and clean. The entire design intentionally uses only four shades of grey plus white, which increases the contrast with the concrete. The fragmented visual effortlessly merges with the topography of the site, adopting a simple, purist approach, complemented by an original, poetic touch.
This fragmented landscape composition was created in perfect harmony with the surroundings, engaging in a dialogue with the existing elements. The depicted visuals are those suggested by the site's geographical situation and history. The landscapes of the Éislek region, shaped over the course of time, weave a tapestry of geological transformations and human influences, resulting in the striking contrast between the imposing plateaus and the dense and lush wooded river valleys. The mural's drawings are inspired by the natural elements, with grids, dotted lines and patterns resembling geological layers and mimicking the Earth's strata. Rhythmic, filigree lines and curves delicately depict valleys and peaks, while denser, bolder hatching evokes the presence of rock and slate. These strong contrasts, harmoniously interweaved with audacious adjuncts, allow the motifs to expose materials and surfaces that blend seamlessly with both nature and architecture. By combining the organic aspect of natural elements with a starker, black and textured execution on raw concrete, the artwork achieves a captivating balance between the two realms.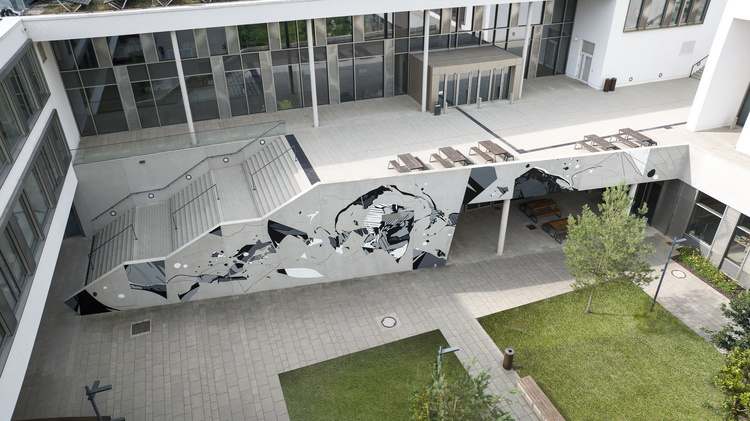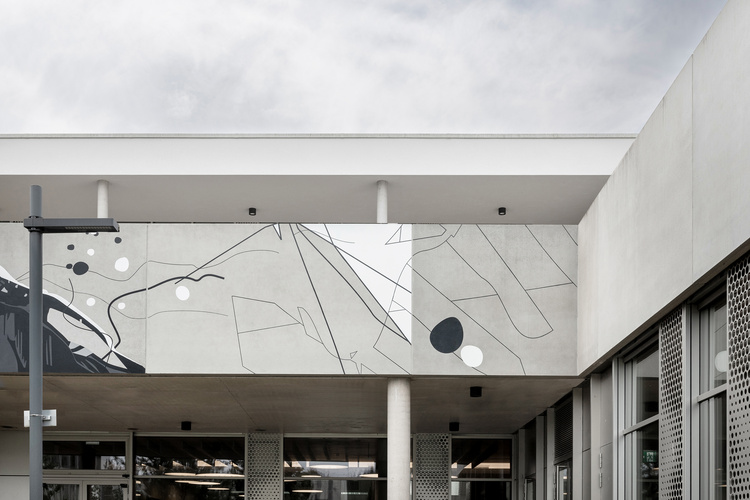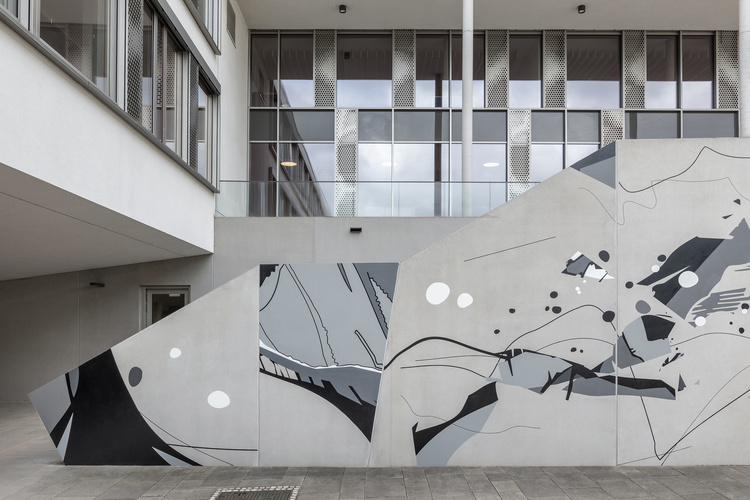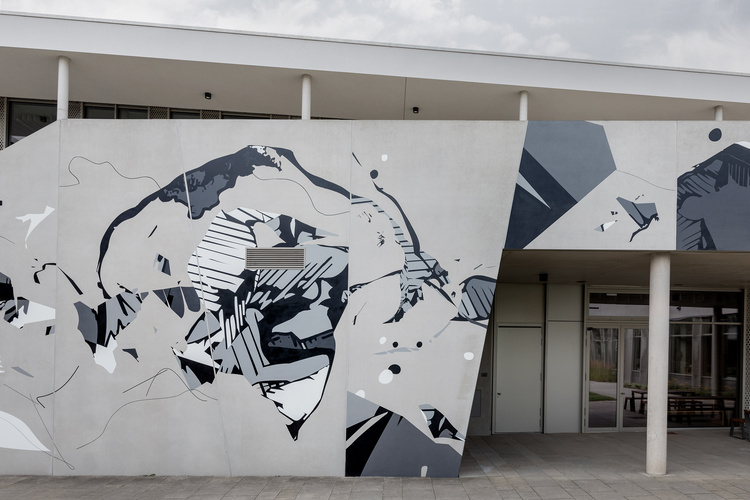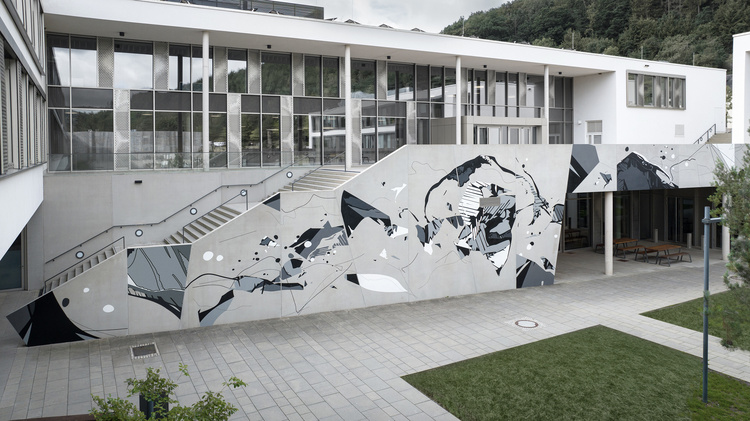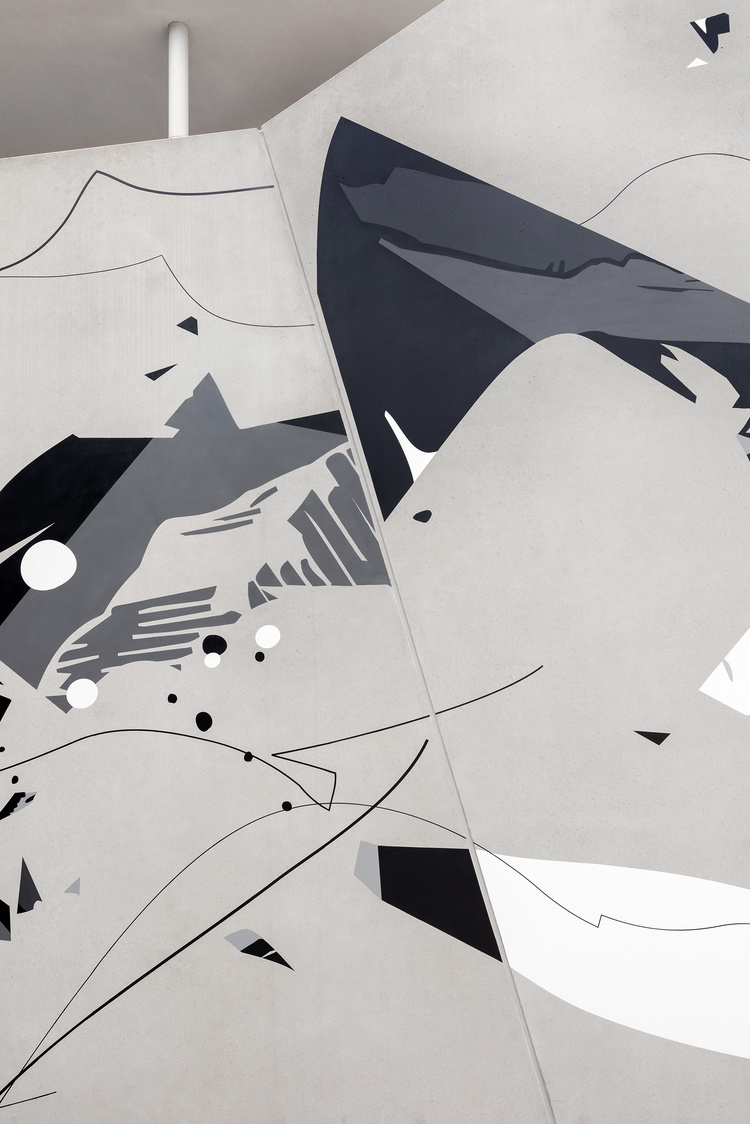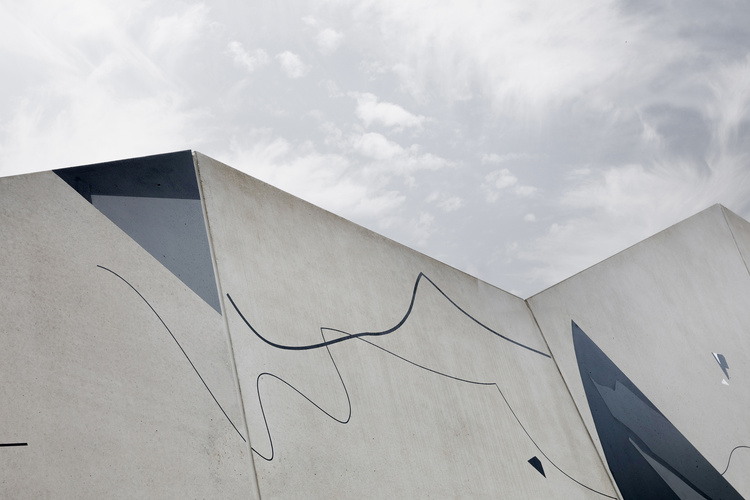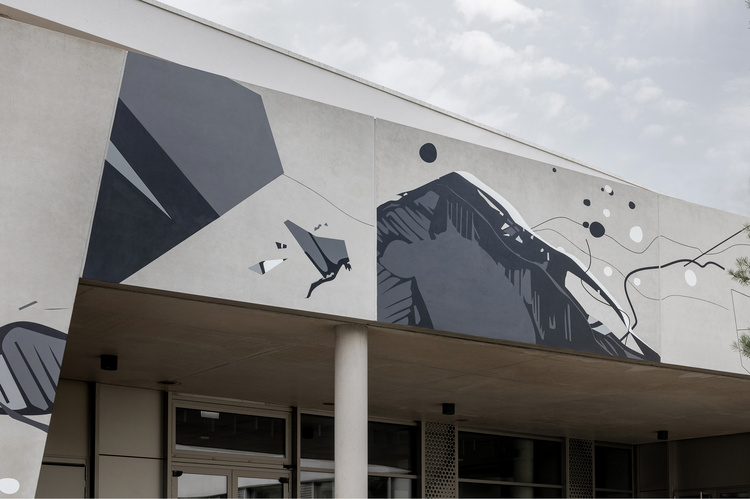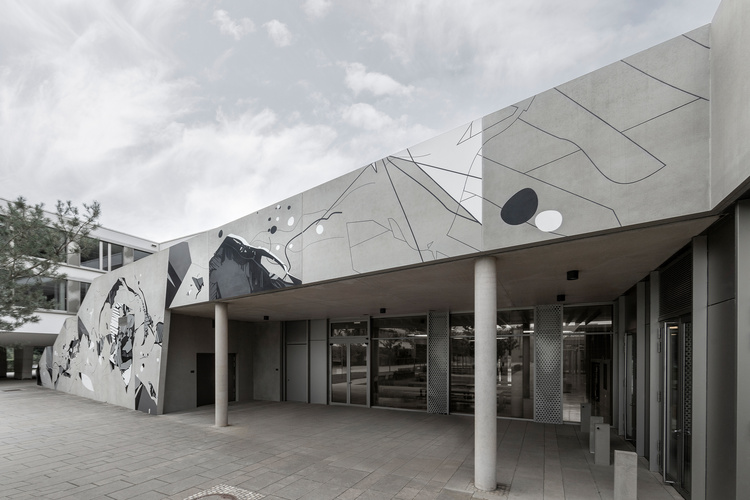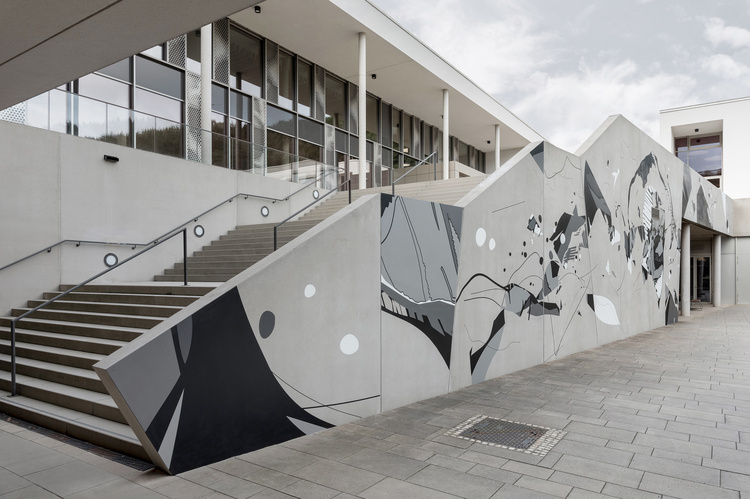 Maître d'ouvrage: Ministère de la Mobilité et des Travaux publics
Administration des bâtiments publics
Photos: © Patty Neu / Contentbox (Drone)